Benjamin Banneker: Letter to Thomas Jefferson
(1791)
Document Text
Maryland, Baltimore County, August 19, 1791.
Sir,
I am fully sensible of the greatness of that freedom, which I take with you on the present occasion; a liberty which seemed to me scarcely allowable, when I reflected on that distinguished and dignified station in which you stand, and the almost general prejudice and prepossession, which is so prevalent in the world against those of my complexion.
I suppose it is a truth too well attested to you, to need a proof here, that we are a race of beings, who have long labored under the abuse and censure of the world; that we have long been looked upon with an eye of contempt; and that we have long been considered rather as brutish than human, and scarcely capable of mental endowments.
Sir, I hope I may safely admit, in consequence of that report which hath reached me, that you are a man far less inflexible in sentiments of this nature, than many others; that you are measurably friendly, and well disposed towards us; and that you...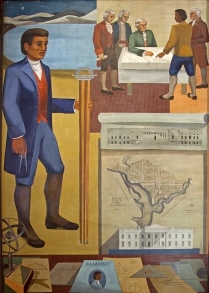 Mural of Benjamin Banneker and his achievements as surveyor, inventor, and astronomer (Library of Congress)
View Full Size