Booker T. Washington: Atlanta Exposition Address
(1895)
Document Text
Mr. President and Gentlemen of the Board of Directors and Citizens:
One-third of the population of the South is of the Negro race. No enterprise seeking the material, civil, or moral welfare of this section can disregard this element of our population and reach the highest success. I but convey to you, Mr. President and Directors, the sentiment of the masses of my race when I say that in no way have the value and manhood of the American Negro been more fittingly and generously recognized than by the managers of this magnificent Exposition at every stage of its progress. It is a recognition that will do more to cement the friendship of the two races than any occurrence since the dawn of our freedom.
Not only this, but the opportunity here afforded will awaken among us a new era of industrial progress. Ignorant and inexperienced, it is not strange that in the first years of our new life we began at the top instead of at the bottom; that a seat in Congress or the state...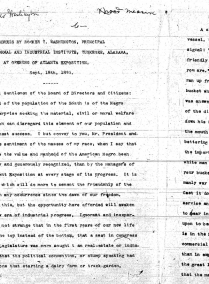 Booker T. Washington's Speech at the Atlanta Exposition (Library of Congress)
View Full Size