George Marshall: Nobel Peace Prize Acceptance Speech
(1953)
Document Text
In my country my military associates frequently tell me that we Americans have learned our lesson. I completely disagree with this contention and point to the rapid disintegration between 1945 and 1950 of our once vast power for maintaining the peace. As a direct consequence, in my opinion, there resulted the brutal invasion of South Korea, which for a time threatened the complete defeat of our hastily arranged forces in that field. I speak of this with deep feeling because in 1939 and again in the early fall of 1950 it suddenly became my duty, my responsibility, to rebuild our national military strength in the very face of the gravest emergencies.
These opening remarks may lead you to assume that my suggestions for the advancement of world peace will rest largely on military strength. For the moment the maintenance of peace in the present hazardous world situation does depend in very large measure on military power, together with Allied cohesion. But the maintenance of...
---
Source: © The Nobel Foundation (1953).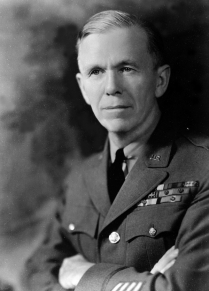 George Marshall (Library of Congress)
View Full Size