Alexander Hamilton: "Opinion as to the Constitutionality of the Bank of the United States"
(1791)
Document Text
The Secretary of the Treasury having perused with attention the papers containing the opinions of the Secretary of State and Attorney General, concerning the constitutionality of the bill for establishing a National Bank, proceeds, according to the order of the President, to submit the reasons which have induced him to entertain a different opinion.
…
In entering upon the argument, it ought to be premised that the objections of the Secretary of State and Attorney General are founded on a general denial of the authority of the United States to erect corporations. The latter, indeed, expressly admits, that if there be anything in the bill which is not warranted by the Constitution, it is the clause of incorporation.
Now it appears to the Secretary of the Treasury that this general principle is inherent in the very definition of government, and essential to every step of progress to be made by that of the United States, namely: That every power vested in a government is...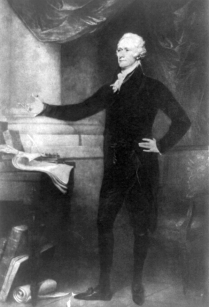 Alexander Hamilton (Library of Congress)
View Full Size