Harry S. Truman: Statement Announcing the Use of the Atomic Bomb on Hiroshima
(1945)
Document Text
Sixteen hours ago an American airplane dropped one bomb on Hiroshima, an important Japanese Army base. That bomb had more power than 20,000 tons of TNT. It had more than 2,000 times the blast power of the British "Grand Slam," which is the largest bomb ever yet used in the history of warfare.
The Japanese began the war from the air at Pearl Harbor. They have been repaid manyfold. And the end is not yet. With this bomb we have now added a new and revolutionary increase in destruction to supplement the growing power of our armed forces. In their present form these bombs are now in production, and even more powerful forms are in development.
It is an atomic bomb. It is a harnessing of the basic power of the universe. The force from which the sun draws its power has been loosed against those who brought war to the Far East.…
The battle of the laboratories held fateful risks for us as well as the battles of the air, land, and sea, and we have now won the battle of the...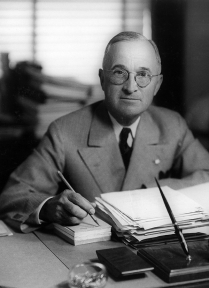 Harry S. Truman (Library of Congress)
View Full Size