Hernando Pizarro: Letter to the Royal Audience of Santo Domingo
(ca. 1533)
Document Text
To the Magnificent Lords, the Judges of the Royal Audience of His Majesty who reside in the city of Santo Domingo.
Magnificent Lords,—I arrived in this port of Yaguana on my way to Spain, by order of the Governor Francisco Pizarro, to inform his Majesty of what has happened in that government of Peru, to give an account of the country, and of its present condition; and, as I believe that those who come to this city give your worships inconsistent accounts, it has seemed well to me to write a summary of what has taken place, that you may be informed of the truth, from the time that Ysasaga came from that land, by whom your worships will have been apprised of what had taken place up to the time of his departure.
The Governor, in the name of his Majesty, founded a town near the sea coast, which was called San Miguel. It is twenty-five leagues from that point of Tumbez. Having left citizens there, and assigned the Indians in the district to them, he set out with sixty...
---
Clements R. Markham, trans. Reports on the Discovery of Peru. New York: Burt Franklin, 1872.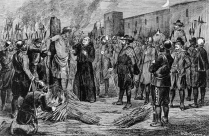 The execution of Atahualpa (Atabaliva) (Library of Congress)
View Full Size