Herodotus: "On Libya"
(ca. 450–420 BCE)
The fifth-century Greek writer Herodotus (ca. 484–425 B.C.) is considered the first person to use the label historian. His Histories is a description of the Persian Wars (ca. 490–479 B.C.). However, nearly half of the work is an ethnographic study of the myriad groups of peoples in the Mediterranean and Near Eastern worlds. The topic of Book IV is his study of the Libyans of North Africa, found in the fourth volume of Histories.
Herodotus begins in Book IV, "On Libya," with a brief geographical survey of Libya and a critique of the traditional Greek division of land areas: Libya, Europe, and Asia. Later, he has a long discussion of the colonization of Libya (specifically the region of Cyrenaica) from the Greek Island of Thera. Herodotus makes a distinction between the Hellenized Cyrenaic peoples and indigenous Libyans.
The historian next describes the customs of the native Libyans. In analyzing barbarian cultures (by which he means those that are not Greek),...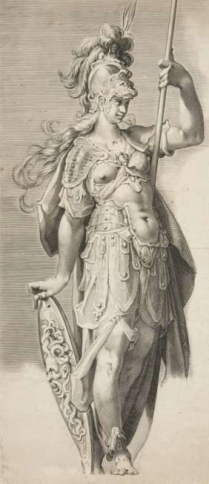 Minerva (Yale University Art Gallery)
View Full Size