John Marshall Harlan: Opinion Pollock v. Farmers' Loan & Trust Co.
(1895)
John Marshall Harlan served thirty-three years, ten months, and four days on the U.S. Supreme Court, one of the longest tenures of all who have sat on the high bench. During that period, he wrote his share of opinions for the Court majority. Yet he is best remembered for his dissents—for their passion, for their prescience, and for the sheer fact that the most significant among them, those concerning civil rights, were written by a southerner and former slaveholder.
The case of Pollock v. Farmers' Loan & Trust Co. (1895) evolved from passage of an income tax law in 1894. This tax was assessed on both wages and indirect income—derived from interest and dividends, for example. Shareholders would now be assessed the tax based on their holdings in a company. The Supreme Court ruled unconstitutional what they viewed as a direct tax, because the Constitution requires that direct taxes imposed by the national government be apportioned among the states on the basis of...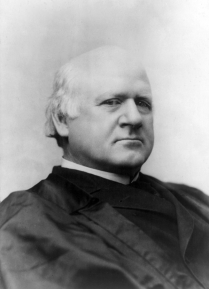 John Marshall Harlan (Library of Congress)
View Full Size