George Marshall: Marshall Plan Speech
(1947)
Document Text
I need not tell you gentlemen that the world situation is very serious. That must be apparent to all intelligent people. I think one difficulty is that the problem is one of such enormous complexity that the very mass of facts presented to the public by press and radio make it exceedingly difficult for the man in the street to reach a clear appraisement of the situation. Furthermore, the people of this country are distant from the troubled areas of the earth and it is hard for them to comprehend the plight and consequent reaction of the long-suffering peoples, and the effect of those reactions on their governments in connection with our efforts to promote peace in the world.
In considering the requirements for the rehabilitation of Europe the physical loss of life, the visible destruction of cities, factories, mines, and railroads was correctly estimated, but it has become obvious during recent months that this visible destruction was probably less serious than the...
---
Source: George C. Marshall Foundation.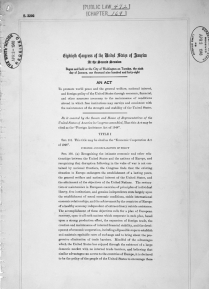 The Marshall Plan (National Archives and Records Administration)
View Full Size