Patrick Henry: Speech to the First Continental Congress
(1774)
Document Text
Government is dissolved. Fleets and armies and the present state of things show that government is dissolved. Where are your landmarks, your boundaries of Colonies? We are in a state of nature, sir. I did propose that a scale should be laid down; that part of North America which was once Massachusetts Bay, and that part which was once Virginia, ought to be considered as having a weight. Will not people complain? Ten thousand Virginians have not outweighed one thousand others.
I will submit, however; I am determined to submit, if I am overruled.
A worthy gentleman … near me seemed to admit the necessity of obtaining a more adequate representation.
I hope future ages will quote our proceedings with applause. It is one of the great duties of the democratical part of the constitution to keep itself pure. It is known in my Province that some other Colonies are not so numerous or rich as they are. I am for giving all the satisfaction in my power.
The distinctions between...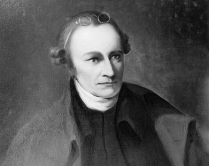 Patrick Henry (Library of Congress)
View Full Size