Patrick Henry: Speech to the First Continental Congress
(1774)
Document Text
Government is dissolved. Fleets and armies and the present state of things show that government is dissolved.… We are in a state of nature, sir. I did propose that a scale should be laid down; that part of North America which was once Massachusetts Bay, and that part which was once Virginia, ought to be considered as having a weight. Will not people complain? Ten thousand Virginians have not outweighed one thousand others.
I will submit, however; I am determined to submit, if I am overruled.…
The distinctions between Virginians, Pennsylvanians, New Yorkers, and New Englanders, are no more. I am not a Virginian, but an American.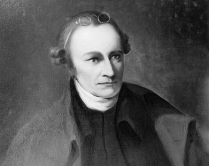 Patrick Henry (Library of Congress)
View Full Size