Ronald Reagan: Remarks at the Republican National Convention
(1976)
Document Text
Thank you very much. Mr. President, Mrs. Ford, Mr. Vice President, Mr. Vice President to be, the distinguished guests here, and you, ladies and gentlemen: I am going to say fellow Republicans here, but also those who are watching from a distance, all of those millions of Democrats and Independents who I know are looking for a cause around which to rally and which I believe we can give them.
Mr. President, before you arrived tonight, these wonderful people here, when we came in, gave Nancy and myself a welcome. That, plus this, and plus your kindness and generosity in honoring us by bringing us down here will give us a memory that will live in our hearts forever.
Watching on television these last few nights, and I have seen you also with the warmth that you greeted Nancy, and you also filled my heart with joy when you did that.
May I just say some words. There are cynics who say that a party platform is something that no one bothers to read and it doesn't very often amount...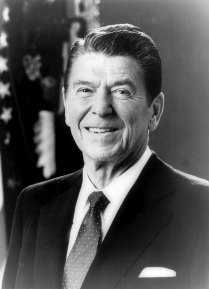 Ronald Reagan (Library of Congress)
View Full Size