Samuel F. B. Morse: Imminent Dangers to the Free Institutions of the United States
(1835)
Document Text
No. I: Introductory Remarks
The great question regarding Foreigners, and a change in our Naturalization laws, is a National question, and at this time a very serious one. . . .
The danger to which I would call attention is not imaginary. It is a danger arising from a new position of the social elements in the onward march of the world toward liberty. The great struggle for some years has till now been principally confined to Europe. But we cannot exclude, if we would, the influence of foreign movements upon our own political institutions, in the great contest between liberty and despotism. It is an ignorance unaccountable in the conductors of the press at this moment, not to know, and a neglect of duty unpardonable, not to guard the people against the dangers resulting from this source. To deny the danger, is to shut one's eyes. It stares us in the face. And to seek to allay the salutary alarm arising from a demonstration of its actual presence among us, by...
---
Source: Imminent Dangers to the Free Institutions of the United States through Foreign Immigration. New York: John F. Trow, 1854.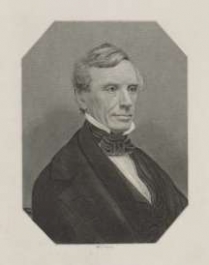 Samuel F. B. Morse (Smithsonian Institution)
View Full Size