Dame Shirley: The Shirley Letters from California Mines
(1851–1852)
Document Text
Letter the First: The Journey to Rich Bar
Rich Bar, East Branch of the North Fork of Feather River, September 13, 1851.
I can easily imagine, dear M., the look of large wonder which gleams from your astonished eyes when they fall upon the date of this letter. I can figure to myself your whole surprised attitude as you exclaim, "What, in the name of all that is restless, has sent 'Dame Shirley' to Rich Bar? How did such a shivering, frail, home-loving little thistle ever float safely to that far-away spot, and take root so kindly, as it evidently has, in that barbarous soil? Where, in this living, breathing world of ours, lieth that same Rich Bar, which, sooth to say, hath a most taking name? And, for pity's sake, how does the poor little fool expect to amuse herself there?"
Patience, sister of mine. Your curiosity is truly laudable, and I trust that before you read the postscript of this epistle it will be fully and completely relieved. And, first, I will merely...
---
Source: Thomas C. Russell, ed. The Shirley Letters from California Mines in 1851–52. San Francisco: Thomas C. Russell Private Press, 1922.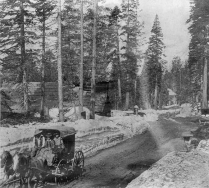 Wagon party reaching the first pass of the Sierra Nevada (Library of Congress)
View Full Size