Émile Zola: "I Accuse"
(1898)
Document Text
Sir,
Would you allow me, grateful as I am for the kind reception you once extended to me, to show my concern about maintaining your well-deserved prestige and to point out that your star which, until now, has shone so brightly, risks being dimmed by the most shameful and indelible of stains?
Unscathed by vile slander, you have won the hearts of all. You are radiant in the patriotic glory of our country's alliance with Russia, you are about to preside over the solemn triumph of our World Fair, the jewel that crowns this great century of labour, truth, and freedom. But what filth this wretched Dreyfus affair has cast on your name—I wanted to say "reign."—A court martial, under orders, has just dared to acquit a certain Esterhazy, a supreme insult to all truth and justice. And now the image of France is sullied by this filth, and history shall record that it was under your presidency that this crime against society was committed.
As they have dared, so shall I...
---
Source: Émile Zola: "I Accuse." International Marxist Tendency Web site.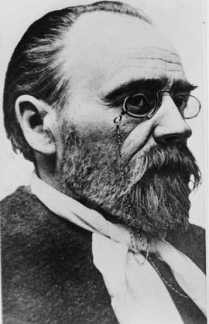 Émile Zola (Library of Congress)
View Full Size