Francisco Madero: Plan of San Luis Potosí
(1910)
Document Text
Peoples, in their constant efforts for the triumph of the ideal of liberty and justice, are forced, at precise historical moments, to make their greatest sacrifices.
Our beloved country has reached one of those moments. A force of tyranny which we Mexicans were not accustomed to suffer after we won our independence oppresses us in such a manner that it has become intolerable. In exchange for that tyranny we are offered peace, but peace full of shame for the Mexican nation, because its basis is not law, but force; because its object is not the aggrandizement and prosperity of the country, but to enrich a small group who, abusing their influence, have converted the public charges into fountains of exclusively personal benefit, unscrupulously exploiting the manner of lucrative concessions and contracts.
The legislative and judicial powers are completely subordinated to the executive; the division of powers, the sovereignty of the States, the liberty of the common...
---
Source: Revolutions in Mexico: Hearing before a Subcommittee of the Committee on Foreign Relations. Washington, D.C.: Government Printing Office, 1913.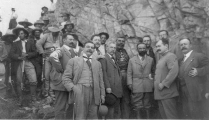 Francisco Madero with his rebel leaders (Library of Congress)
View Full Size