Gamal Abdel Nasser on the Nationalization of the Suez Canal
(1956)
Document Text
In the Name of the Nation
The President of the Republic,
Considering the two firmans issued on November 30, 1854 and January 5, 1856 (respectively) concerning the preferential rights relating to the administration of the Suez Canal Transit Service and the establishment of an Egyptian joint-stock company to operate it; and Law No. 129 of 1947 concerning public utility concessions; and Law No. 317 of 1952 concerning individual labor contracts; and Law No. 26 of 1954 concerning joint-stock companies, limited partnerships by shares and limited liability companies; with the advice of the State Council; has issued the following law:
Article I
The Universal Company of the Suez Maritime Canal (Egyptian joint-stock company) is hereby nationalized. All its assets, rights and obligations are transferred to the Nation and all the organizations and committees that now operate its management are hereby dissolved.
Stockholders and holders of founders shares shall be compensated...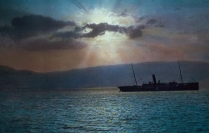 The Red Sea at the entrance to the Suez Canal (Library of Congress)
View Full Size