"Instructions of Ptahhotep"
(ca. 2200 BCE)
Document Text
Instruction of the Mayor of the city, the Vizier Ptahhotep, under the Majesty of King Isesi, who lives for all eternity. The mayor of the city, the vizier Ptahhotep, said:
O king, my lord!

Age is here, old age arrived,

Feebleness came, weakness grows,

"Childlike" one sleeps all day.

Eyes are dim, ears deaf,

Strength is waning through weariness,

The mouth, silenced, speaks not,

The heart, void, recalls not the past,

The bones ache throughout.

Good has become evil, all taste is gone,

What age does to people is evil in everything.

The nose, clogged, breathes not,

"Painful" are standing and sitting.
May this servant be ordered to make a staff of old age,

So as to tell him the words of those who heard,

The ways of the ancestors,

Who have listened to the gods.

May such be done for you,

So that strife may be banned from the people,

And the Two Shores may serve you!

Said the majesty of this god:

Instruct him then in the sayings of the past,

May he become a model for the children of the great,

May...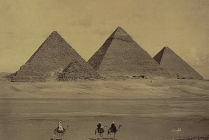 Pyramid tombs of Giza (Library of Congress)
View Full Size