John Woolman: Some Considerations on the Keeping of Negroes
(1754)
Some Considerations on the Keeping of Negroes remains one of the earliest and most influential antislavery tracts written in North America. Composed by the Quaker John Woolman in 1753, it gained approval by the Society of Friends in 1754, marking the beginnings of committed Quaker opposition to slaveholding. Prior to that point, Quakers in the American colonies had been ambivalent about the moral status of slavery, many even owning slaves themselves.
Writing at a time when prevailing colonial attitudes toward Africans presumed their inferiority, Woolman made a remarkably forward-looking case for racial equality. Not only did he argue that Africans belonged to the same human family as Europeans but also Woolman even suggested that many of the perceived differences between blacks and whites were actually the product of patterns of discrimination over time—what modern scholars would call "socially constructed."
Countering arguments that slavery exercised a positive,...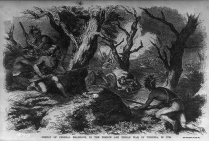 Defeat of General Braddock in the French and Indian War (Library of Congress)
View Full Size