Lope de Aguirre: Letter to King Philip of Spain
(1561)
Document Text
To King Philip, the Spaniard, son of Charles the Invincible:
From Lope de Aguirre, your lesser vassal, old Christian, of middling parents but fortunately of noble blood, native of the Basque country of the kingdom of Spain, citizen of the town of Onate.
In my youth I crossed the sea to the land of Peru to gain fame, lance in hand, and to fulfill the obligation of all good men. In 24 years I have done you great service in Peru, in conquests of the Indians, in founding towns, and especially in battles and encounters fought in your name, always to the best of my power and ability, without requesting of your officials pay nor assistance, as can be seen in your royal records.
I firmly believe, most excellent King and lord, that to me and my companions you have been nothing but cruel and ungrateful. I also believe that those who write to you from this land deceive you, because of the great distance.
I demand of you, King, that you do justice and right by the good vassals...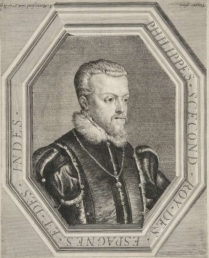 King Philip II of Spain (Yale University Art Gallery)
View Full Size