Harriet Farley (Using the Pseudonym "Susan"): Letters from the Lowell Mill
(1844)
Document Text
Letter First
Lowell, March —
Dear Mary:
When I left home I told you that I would write in a week, and let you have my first impressions of Lowell. I will keep my promise; though, if I should defer my letter a while longer, I think I could make it much more interesting. But you know I promised to be very minute, and there is always sufficient minutiae to fill up a letter.
I arrived here safe and sound, after being well jolted over the rocks and hills of New Hampshire; and when (it was then evening) a gentleman in the stage first pointed out Lowell to me, with its lights twinkling through the gloom, I could think of nothing but Passampscot swamp, when brilliantly illuminated by "lightning-bugs." You, I know, will excuse all my "up-country" phrases, for I have not yet got the rust off; and to you, and all my old-fashioned friends, I shall always be rusty. My egotism I will not apologize for—it is what you request.
To return to my adventures—for it all appears very...
---
Source: The Lowell Offering (1844).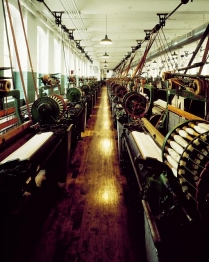 Looms inside the old Boott Cotton Mill in Massachusetts (Library of Congress)
View Full Size