Norman Asing: Letter to Governor John Bigler
(1852)
Document Text
Sir:
I am a Chinaman, a republican, and a lover of free institutions; am much attached to the principles of the government of the United States, and therefore take the liberty of addressing you as the chief of the government of this State. Your official position gives you a great opportunity of good and evil. Your opinions through a message to a legislative body have weight, and perhaps none more so with the people, for the effect of your late message has been thus far to prejudice the public mind against my people, to enable those who wait the opportunity to hunt them down, and rob them of the rewards of their toil. You may not have meant that this should be the case, but you can see what will be the result of your propositions.
I am not much acquainted with your logic, that by excluding population from this State you enhance its wealth. I have always considered that population was wealth; particularly a population of producers, of men who by the labor of their...
---
Source: Norman Asing, "To His Excellency Gov. Bigler." Daily Alta California. May 5, 1852.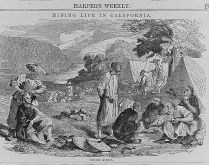 Illustration of Chinese miners in California gold rush days (Library of Congress)
View Full Size