Roberts v. City of Boston
(1850)
Explanation and Analysis of the Document
The text of the opinion in the case of Sarah C. Roberts v. The City of Boston outlines the legal position of the Boston School Committee and the argument made on the plaintiff's behalf by her attorney Charles Sumner. Initially, the case was argued before the Suffolk County Court of Common Pleas; it was later brought before the Massachusetts Supreme Court on appeal.
Statement of Facts from the Court of Common Pleas
The beginning of the document recaps the initial court case concerning Sarah Roberts, beginning with the line: "The case was submitted to the court of common pleas, from whence it came to this court by appeal, upon the following statement of facts." The next several paragraphs offer an overview of the case and outline the policies and regulations of the primary school committee charged with overseeing the education of Boston youths from four to seven years of age. Sarah Roberts's father, Benjamin F. Roberts, brought suit...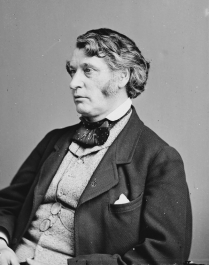 Charles Sumner (Library of Congress)
View Full Size