Explanation and Analysis of the Document
Section 1
Section 1 gives a short title, the "Labor Management Relations Act, 1947," to this first revision of the Wagner Act and specifies the purposes of the legislation. One purpose is to minimize "industrial strife." This can be done, the paragraph asserts, if "employers, employees, and labor organization" recognize one another's "legitimate rights" but, more important, recognize that no one has the right to threaten "the public health, safety, or interest." The second paragraph indicates that the act will "prescribe the legitimate rights of both employees and employers" and provide procedures to prevent either party from interfering with the rights of the other and, most important, to forbid "practices" by either party that harm "the general welfare" and protect the "rights of the public" in labor disputes.
Title I: Amendment of National Labor Relations Act
Section 101:1—Findings and Policies
This section amends the Wagner Act's...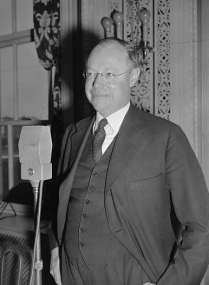 Robert A. Taft (Library of Congress)
View Full Size