Ulysses S. Grant: Letter to Daniel H. Chamberlain
(1876)
Document Text
July 26, 1876

Executive Mansion, Washington, D.C.
Governor Daniel Chamberlain
Dear Sir: I am in receipt of your letter of the 22d of July, and all the inclosures enumerated therein, giving an account of the late barbarous massacre at the town of Hamburg, S.C. The views which you express as to the duty you owe to your oath of office and to citizens to secure to all their civil rights, including the right to vote according to the dictates of their own consciences, and the further duty of the Executive of the nation to give all needful aid, when properly called on to do so, to enable you to ensure this inalienable right, I fully concur in. The scene at Hamburg, as cruel, blood-thirsty, wanton, unprovoked, and uncalled for, as it was, is only a repetition of the course which has been pursued in other Southern States within the last few years, notably in Mississippi and Louisiana. Mississippi is governed to-day by officials chosen through fraud and violence, such as...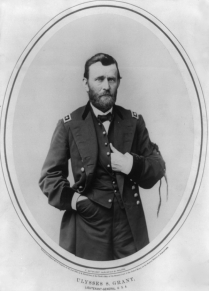 Ulysses S. Grant (Library of Congress)
View Full Size