09/24/18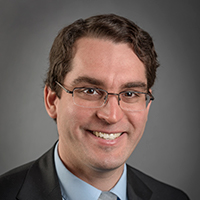 I am Joseph Stuart, Associate Professor of History and Fellow of Catholic Studies at the University of Mary. It is an honor to serve you, academic colleagues, as subject editor for World and Western Civilization I to 1500. I have been using Milestone Documents in my Western Civ courses for almost 10 years. Students respond well to Milestone, and it has also enabled pedagogical innovation in my classes. I no longer use a textbook, and I have had great success with moderating three student debates during each semester based on Milestone sources. Members of the debate teams take on roles and duke it out over important decisions, such as whether to persecute the Christians in early fourth-century Rome or whether to sign the Magna Carta in thirteenth-century London. The rest of the class judges the winning team, all whom get bonus points on their next quiz. We have a lot of fun!
My goals as subject editor include keeping track of any coverage gaps in primary sources and textbook articles and making recommendations to Milestone Documents to fill those gaps. Hearing from you about weak areas would help tremendously, so for now please email me at jtstuart@umary.edu. We'll be investigating a tech solution (e.g. message board) that might better serve this purpose in the future. I will do my own assessment and report to you in the future about additions to the collection.
I also want to evaluate which primary sources really need expert commentary, because not all sources have such commentary at present. Again, your input on the sources you commonly use that need development in this particular area would be a great help.
I really look forward to generating a dialogue and connecting a community of instructors around these topics.
As teachers of history, we need to believe in the ability of our students to connect meaningfully with the past. They need to encounter it in primary sources and not have it mediated merely through a textbook. This takes a lot of work, but it is amazing how the foreign ideas, strange notions, and lack of political correctness in ancient texts spur them to take an interest. Most of my students are non-history majors, but I make all of them keep a journal on each of the 50 primary sources from Milestone Documents that they read during the course of a semester. They can do it, if shown how and held to a high standard. Let's work together to improve the World and Western Civilization I content for the sake of our students, because you never know for sure which document will be the one to captivate the unsuspecting student.
Joseph T. Stuart
University of Mary
Milestone Documents offers free instructor accounts with full access to our entire collection and instructor resources. Click here to get started.